Triple and Family Rooms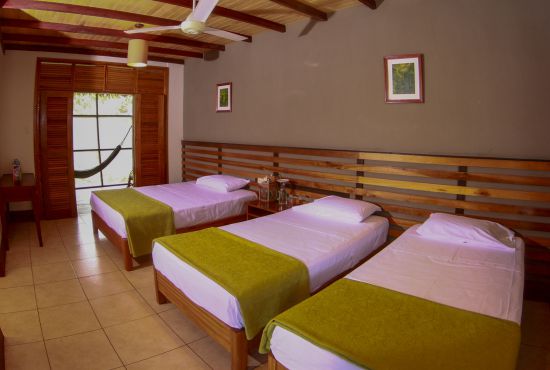 Rest from your jungle adventure near the pool, dining room, bar and the majestic Amazon River. In a large, spacious, and comfortable room that has its own bathroom and fans and a hammock room so you can relax jungle-style.

Three beds

Relish relief and respite in a spacious 32.50 square meter Triple or Family rooms that can accommodate double or twin, triple and quadruple occupancy. Situated in the Yellow , Orange and Green Pavilion near the Pool, Dining and Bar, with panoramic windows and screened terrace overlooking the garden, the rooms are topped by a high-ceiling thatched-palm roof and outfitted with mesh screen to ward off mosquitos and insects.

For your convenience, your room is equipped with a ceiling fan, nightstand, safe, closet, a poncho and flashlight. Also, an electrical socket is provided to charge your laptop, tablet and other devices. For your relaxation, a hammock is provided on the deck along with a rocking chair.
Tlf: +51 65 231983
Request Information
See More