THE LODGE
Helconia Amazon River Lodge
is one of the most exclusives lodges in the Peruvian Amazon. Heliconia Lodge is located in the Yanamono Communal Reserve, 80km (50 miles) away from Iquitos City. We are committed to preserving the ecosystem of this pristine Reserve through sustainable work together with the local communities.
Heliconia Amazon River Lodge is recognized as an exceptional jungle lodge for your eco-friendly stay. Complete with refreshing swimming pool, our low-impact uses of electricity also include cooling fans, soothing hot water, and the convenience of lights at just the right times of the day. We serve a variety of delicious buffet foods, and offer other resort-quality amenities.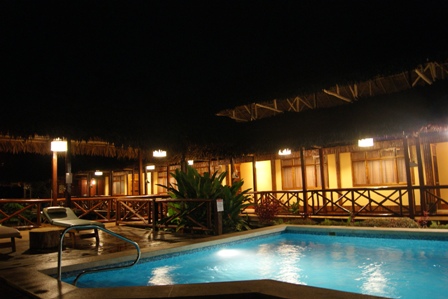 ROOMS
Want to host a conference in the jungle? You can do it at our Lodge. We have an exclusive Conference Room within the Lodge, well-equipped with lights, fans, Wi-Fi, and audio-visual equipment. Your conference attendees will appreciate this unique relaxing jungle get-away from the distractions of the city.
EXPERIENCES
Heliconia Amazon River Lodge
is surrounded by rainforest, islands, and lagoons full of astounding Amazon wildlife. This location is a beautiful place to rest in deep nature, as well as participate in many jungle and boating activities such as jungle hikes, pink dolphin sightings, native village visit, sports and piranha fishing, medicinal plant trail hike, and bird watching. Heliconia Amazon River Lodge area is now listed as a birding hotspot, according to E-Bird by Cornell University Ornithology Lab.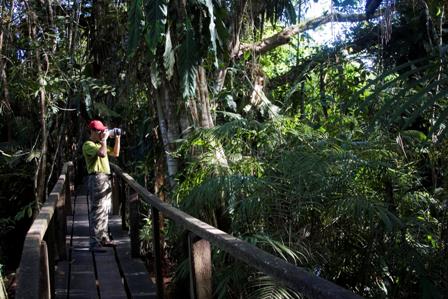 PROGRAMS AND OFFERS
Take advantage of our Heliconia Amazon River Lodge
incredible offers
and
package deals.
Whether you visit us for a few days or a week or more, we can accommodate your special needs and interests. Create your own special expedition tours to experience the wildlife wonder of the Amazon—the greatest expression of life on Earth.
OUR MOTTO
Heliconia Amazon River Lodge
is the perfect base to begin your Amazon adventure. We assure you the best Amazon experiences for the adventure of a lifetime, with resort comfort for a refreshing stay. Our eco-friendly Lodge always supports the care of the environment. Relax, skip the routine, and escape from all the distraction of the outside world. A perfect place to enjoy an exciting Amazonian adventure and let yourself be carried away and inspired by all its wonders.
Please , Download our Travel Guide and Brochure (PDF files) according your language and enjoy it with your costumer or friends.