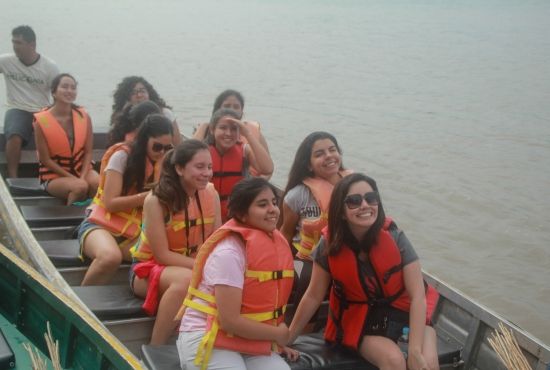 STUDY TRIP- EXPLORING THE AMAZON
4 Days 3 nights

Amazing Students Amazon Programs
Choose your rainforest adventure. You will have a wide array of excursions and depending on your interest, desired activity and length of stay; however, to make the most of your journey, we suggest the essential epitome of jungle experience:
Study Trip
4 Days/ 3 Nights – 3 nights at Heliconia Lodge
Your expedition to the Amazon River offers a rare opportunity to see a totally different world, very detached from urban development where you will discover an astounding sphere of sheer nature and an effervescent biodiversity of flora and fauna. To help you experience an astounding Amazon Adventure and make your enchanting rainforest foray worth its while, we have prepared this suggested itinerary.
ITINERARY IN BRIEF:
Welcome to Iquitos/ Visit to Manatie Rescue Center/ Transfer to the Iquitos boarding wharf / Motorized boat ride / Arrival to the Lodge/ Welcome drink and check-in/ Lunch/ Afternoon excursion – Nature Trek / After sunset –Night Boat Ride/ Dinner/ Overnight / Early morning Bird watching / Breakfast & Refresh / Native Fishing/ Return to Lodge for Lunch / Afternoon-Glimpse the Giant Water Lily / Night Hike / Dinner /Overnight/ Breakfast / Native Community Immersion / Pink Dolphin Sighting / Dinner / Overnight / Breakfast / Lunch / Visit to the Monkey Island, Transfer by boat to Iquitos City / Transfer to Iquitos Airport.
Seasons of Rising and Emptying of the Amazon River
Keep in mind that the itinerary suffers variations during the Amazon River Emptying season that affects navigation and therefore the performance of some activities.
Rising Season : March - May
Emptying Season : August - October
Transition Season: November - February
Check in and Check out at Heliconia Lodge.
Check in: 13:00 pm | Check out: 12:00 pm