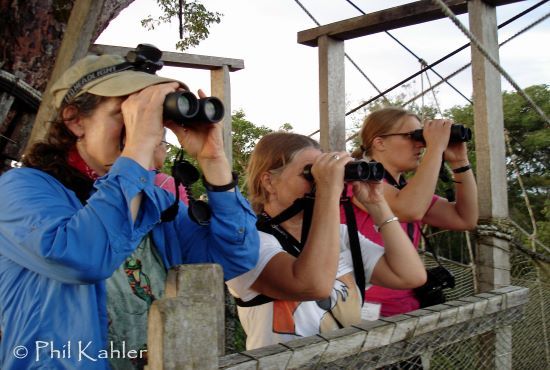 | | |
| --- | --- |
| N° of Passengers | Total |
| 2-4 | $1,023 |
| 5-7 | $ 996 |
| 8-10 | $ 972 |
| 11-15 | $ 964 |
| 16 or more | $ 954 |
| Simple Supplement USD $ 168 | |
The Canopy Walkway is an experience unequaled in the rainforest! At a height of over 35 meters (115 feet) and extending for 500 meters (one-third of a mile), the Canopy Walkway provides a view of the rainforest from the treetops, the best vantage point for observing Amazon wildlife and vegetation.
The Canopy Walkway is accessible to all and requires no special skills or equipment. The suspended walkway is spread between 14 of the area's largest rainforest trees and is one of the longest canopy walkways in the world.
You can experience canopy walkway in Heliconia Lodge and Explornapo Lodge programs.
ExplorNapo Lodge
On the Napo River, 160 km (100 mi) from Iquitos, EXPLORNAPO provides access to the pristine forest of Explorama´s Sucusari Reserve, as well as access to the adjoining Amazon Canopy Walkway, one of the longest treetop walkways in the world. This adventure offers the opportunity to live in an authentic Amazon River style with palm-thatched houses, kerosene lighting and open-hearth cooking in a rainforest surrounding. Shower and toilet facilities adjoin each house.
Seasons of Rising and Emptying of the Amazon River
Keep in mind that the itinerary suffers variations during the Amazon River Emptying season that affects navigation and therefore the performance of some activities.
Rising Season : March - May
Emptying Season : August - October
Transition Season: November - February
Check in and Check out at Heliconia Lodge.
Check in: 13:00 pm | Check out: 12:00 pm