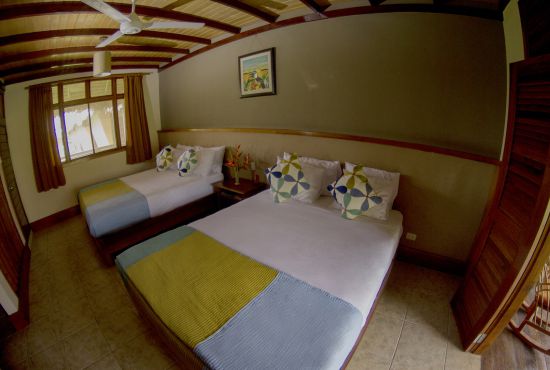 The perfect place for you and your partner. An intimate space that is located deep in the jungle and the furthest from the social areas of the Lodge.
It has 2 beds, a hammock, bathroom, and all the nature and magic of the Amazon.
Take a unique jungle break in our 4 Bungalows which are distanced from the Lodge's common areas. Spot some lizards and fish as you walk along its corridor over a swamp with water 365 days a year. Soak up in the sizeable private 32.5 square meter bungalow with terrace provided with a hammock and rocking chair.
For your comfort, the Bungalows are equipped with a ceiling fan, an ample hanger closet, safe, poncho, flashlight and extra amenities such as a reading table, mini ref and electrical socket to charge your laptop, tablet and camera. Amenities in its large bathroom.
Most ideal for couples in honeymoon for seclusion and privacy.