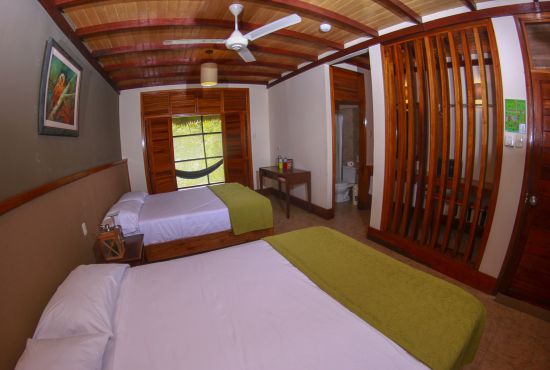 A splendid option of rest and relaxation right in the middle of the Amazon rainforest. With a view of the forest, the jungle sounds, aromas, and sights are present in your room. It has 2 queen beds, a hammock, its own bathroom, and ceiling fans.
Experience absolute rainforest respite in the 32.50 square meter Plus Double Room available as double or triple, located on the Red Pavilion, a distance from the pool, with terraces, topped by high-ceiling thatched-palm roof and outfitted with mesh screen to ward off mosquitos and insects.
Sleep in luxury of queen beds; appreciate its panoramic windows that look out to the garden and a screened terrace to the forest, provided with a hammock where you will have the opportunity to see different birds and monkeys and hear their peculiar sounds.
For your comfort, the Jungle Suites are equipped with a ceiling fan, nightstand, an ample hanger closet, safe, a poncho, flashlight and extra amenities such as night stand and electrical socket to charge your laptop, tablet and camera. Amenities in its large bathroom.